We are excited to announce the launch of Kapta's new Quarterly Business Review (QBR) tools. They are designed to streamline the QBR preparation process by guiding and automating routine administrative tasks. This frees Key Account Managers (KAMs) and their managers to focus on strategically preparing for these essential meetings.
Why you need QBR tools
QBRs are such sensitive customer interactions. These important meetings don't happen that often. They may take place four times a year if you're lucky. But many organizations schedule them every six months or do executive business reviews (EBRs) that occur on an erratic schedule.
Consistently be your best
So, you want to put your best foot forward and take full advantage of this critical opportunity to engage C-level account contacts in strategic conversations. You don't want anything to prevent you from having a successful QBR that delivers value to your VIP customer. So don't let all the minutia involved in preparing for this meeting prevent you from providing strategic value to your client.
Having a consistent QBR preparation process ensures that nothing falls through the cracks. All team members can see the status of all action items and can easily communicate through the QBR tool. So, every detail is covered without any missteps, and you have time for strategic preparation as well.
Deliver value
When we do the "Seven Sins of Key Account Management" workshops, companies consistently score themselves low on the sixth sin, reporting value back to the customer. Not showing value to the customer is not about whatever your product or service is or isn't doing. It's failing to tell the customer what value you're delivering and tying it back to the customer's goals and objectives, then having tactical conversations with customers instead. This causes your customers to view your company as tactical support instead of a strategic partner.
Find time for strategic planning
Automating the creation of the QBR enables account managers and their managers to spend more time preparing for significant discussions during a review. It allows you to ask better questions, provide more of the insights your customer wants to see, and allows you to have more meaningful conversations with the customer.
Using Kapta's QBR tools to complete the tactical tasks gives you more time to uplevel while the software takes care of the basics for you. Consequently, C-level contacts are more likely to find your QBRs more valuable and attend them more often.
Kapta's QBR tools
Our QBR software automates the minutia involved in preparing for these meetings, so account managers have time to prepare strategically for more meaningful dialog and conversations. Kapta's QBR tools include features like:
Customizable QBR templates: Starting with a standardized QBR template ensures all key elements are included and nothing is missed. The template is easily customized by the KAM, allowing them to omit anything that doesn't apply to the specific customer.
Checklist: There are so many things to remember when preparing for a QBR. The checklist is critical for keeping you on track and ensuring that no detail is forgotten. Set up a standardized checklist that the KAM can amend as needed. This checklist might include things like:
Review help desk activity to ensure the customer doesn't have any open tier one tickets
Talk to the product team about any feedback received from the customer
Speak with marketing about cool things coming out that may interest them
Review the contract to ensure we're still in compliance with all the critical terms
Invite internal stakeholders
Event reminders: QBR creation and completion triggers reminders of related events such as planning and follow-up tasks to ensure no detail is forgotten.
QBR history: All past QBRs are stored and accessible on the QBR page in Kapta, so it's easy to see what was discussed during the last meeting, what tasks were promised and completed, and previous metrics for comparison.
Reporting: Access past reports and run new reports from within the QBR tool as you prepare for the current QBR. No need to switch between multiple tabs.
Data: All data and insights such as SWOT and VOC are at your disposal as you prepare for your meeting.
Email templates & integration: An entire library of email templates resides in the QBR software, including invitations, requests for input, and follow-ups. And you're able to send them directly from the QBR page in Kapta. So, it only takes a few clicks to handle these essential communications.
Agenda: KAMs are provided with an agenda template to get them started so all they need to do is adapt it to the specific customer.
Pre and post-QBR tasks: Easily track tasks that need to be completed prior to upcoming QBRs and commitments made to the customer during a review meeting to be completed after the QBR
Internal evaluation: Enable all internal stakeholders who attend a QBR to rate the success of the meeting from various perspectives including:
Client happiness with prior period
Client engagement or interest during the QBR presentation
Client excitement about the upcoming period
Potential for expansion or growth within the account
These ratings are then aggregated to generate an overall rating of the QBR from the perspective of the internal contacts.
Tips: Include a listing of configurable links to the Kapta blog and KAMGenius posts and videos to help create a kick-ass QBR.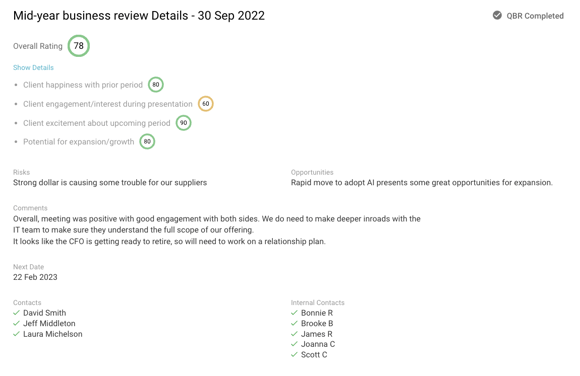 Make your QBRs more strategic
Don't put your key accounts at risk by continuing to give inconsistent, tactically focused QBRs that only your day-to-day contacts are willing to attend. Up your QBR game instead by automating your preparation process so you have time for strategic planning. You'll be equipped to engage in high-level meaningful discussions that bring value to your C-level contacts. They'll start seeing you as a trusted advisor instead of just another vendor.

Ready to make your QBRs more valuable to your customers? Check out Kapta's new QBR software to see how it can help.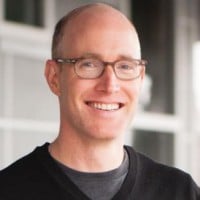 CEO at
Kapta
Alex Raymond is the CEO of Kapta.