Quarterly business reviews (QBRs) have several specific purposes, and therefore, need clear and agreed objectives if they are to succeed. In one of our earlier articles about low-quality QBRs we shared some of the comments shared by key accounts, and they were not all that positive. Of the senior managers surveyed, 72 percent assessed QBR's as either "neutral" or "negative" with only 28 percent reporting these meetings as being valuable.
Key Account Managers (KAMs) are responsible for a significant amount of revenue for their companies. With this responsibility, their tasks are designed to help them stay on track with their key accounts.
Delivering targeted sales and profitability results

Delivering strategically valuable support to their key accounts, which helps with increased revenue and client retention

Educating senior executive in your customers' and clients' needs, so they can develop new products and services that your key accounts will buy.
The QBR, therefore, is more than a review of the past and present situation. It's a powerful opportunity to tighten the bond between your company and its bedrock client base. You want your QBR to deliver maximum benefit to both parties. To do this, proper preparation is crucial. When you are clear about your QBR objectives you can generally avoid the 12 pitfalls of poor QBRs.
For the KAM, purpose and structure of a QBR must be clear.
The Real Purpose of the QBR
Know the real purpose – not what everyone thinks it is, and the name itself is a bit too simple. Yes, it is called a quarterly business review, but your purpose is to do far more than simply review the past quarter. You might be surprised to learn that it's also not about your presentation skills, and as such KAMs should be focused on what a QBR can do for their company and key accounts.
Your overall purpose is to deepen the relationship and tighten the relationship. It is also to review and reset parameters to, at the minimum, maintain existing revenue and profit targets.
QBR Goals
Understand the importance of defining and refining goals that help deliver on your QBR's purpose. You should have end goals—specific objectives—for your key accounts. To achieve these you must clarify and agree on goals that are both process and performance oriented. This includes the actions you and your team will perform, when you will perform them, and the standards of performance your key accounts expect you to achieve after the QBR ends. These goals will give your QBR real structure, so you can prepare accordingly.
You know your accounts and the personnel in those accounts with whom you work. You know the goals they want to achieve, their targets, and the obstacles they must overcome in order for them to hit those targets. You also know your own company's goals as they relate to those accounts.
The details for each QBR will be based on those factors. If you do not know these aspects, then a major part of your preparation is to discover, clarify, and understand them. This will allow your QBR to be a more customized, real-world experience and not a rerun from last time.
Your QBR needs to include just a few important things.
Relating your account's goals and obstacles to the value your products and services deliver.

Asking how well your products and services are supporting their goals

Helping your key accounts to overcome any obstacles, whether they are theirs or yours
Do not be afraid of too much detail here. Your products and services have features that deliver advantages and benefits. You need to know how your accounts score those features – like a report card. Consider using a one-to-ten scale.
If they score a particular feature at, say, an "8" you have an ideal opportunity to learn from them what they need so they can score a 9, and then a 10. This simple, detailed question-and-answer session makes you a valued partner, not an outside presenter. If it helps to emphasize this, know that one common criticism about QBRs is that they are too much "telling" and not enough "asking." In other words, don't talk the whole time. Let your key accounts tell you what they think.
By asking for this detail you make your interest in their success evident while simultaneously establishing yourself as a strategic partner. You might also obtain specific intel for your own company to work with. If you already know where your account needs specific improvements to a product or service you provide, you can take suggestions for the improvements to the QBR for discussion and agreement.
When you know the goals you want the QBR to achieve, you can set up the structure, and do the prep that will deliver on those goals. Part of that prep will include making sure your key accounts' personnel do their own homework and come prepared to work with you on those details.
A Suggested QBR Structure
Great preparation assumes great delivery. To deliver a great QBR, you must structure it properly. There is no "one-size-fits-all" QBR. This skeleton structure is intended to do no more than give you a starting point. This structure is based on goals, preparation, involvement, and agreed action.
State the QBR goals. Include the End Goals you have for the account – related, entirely to their own success, not your profit.

Reference the preparation you did, and the preparation that you may have requested from your key accounts.

Review your accounts' goals and obstacles, as appropriate, within the context of the products and services they receive from your company.

Review successes, shortfalls, and everything in between since the previous QBR, and what you have done to overcome any shortfalls, so they will not repeat. You want your account to see progress and changes, not a reiteration of what needed done from last time.

List the agreed topics, products, services, circumstances, and future plans (as applicable)in which you will go into detail. Here is where you cover the one-to-ten scores, what's working now, what could be improved, how it could be improved to raise the score, what this tells you, and how you will manage all of it.

Separate out Process and Performance goals with the key account staff, and know who is doing what and what the expectations are for these in both terms of time and final product.

Determine how you will be reporting back to your key accounts.

Decide if the progress you make will lead to new business from the account.

Ask those present to score the QBR out of 10. If it's not an absolutely 9 or 10 on this scale, get real with your key accounts and figure out how you can make this happen.
The Take-Away
Clarify your goals for QBR goals and structure so your QBR's aren't something what about 75 percent of key accounts currently think – that they are useless. Involve your accounts and your own senior personnel, and make sure everyone is doing their part to contribute useful inputs. Don't forget that it's not all about what you have to say, but maybe what your accounts want to know. As yourself if you would sit through one of your own QBRs, and if the answer is not a resounding and honest "yes" then revisit your QBR purpose and goals until you would want to be your client during one.
Ready to learn more and take your QBRs to the next level? Download our Quarterly Business Review ebook for more practical tips!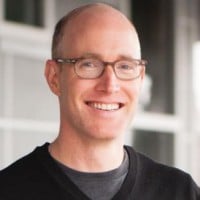 CEO at
Kapta
Alex Raymond is the CEO of Kapta.