How many key account managers out there dread account plans? They take pages upon pages, hours upon hours, and you wonder if all the time and effort is even worth it. The truth is account plans are worth it — just maybe not the way you're used to doing them so far.
At KAMCon 2018, customer growth and B2B specialist Jermaine Edwards addressed what so many account managers like you feel resistant to: creating account plans when the statistics aren't on your side. Elsevier Research found that 84% of key account plans aren't achieved every year. And according to a Rain Group study, 76% of sales leaders believe they should be getting up to 25% more from their existing customers.
So what's the disconnect? You have to start with the right philosophy first, then follow a practical, step-by-step guide to bridge the distance between "I know I should" and "I know it works."
How You Think is How You Act
In the simplest terms, philosophy drives intent and intent drives activity. If your key accounts think you're replaceable, then maybe it's because your approach has lacked emotional investment, clarity, and intent, and it's easier for them to move on.
Instead, you want your customers to think of you as irreplaceable, which means you need to think of yourself as irreplaceable too. This starts by asking:
Why are you doing this? Why does this account plan matter?

What do you want most for your customers?

Who are you trying to help your customers become?
An account plan philosophy that centers around what's in it for the customer (the individual), what's in it for their larger business, and what's the context in the marketplace keeps their needs and outcomes squarely in front of you and helps you become irreplaceable to your customers.
That way, random acts of success — those moments when something worked for an account, but you're not really sure how or why — turn into recurring acts of success that are well-understood and repeatable time and again.
A Playbook for Customer Growth
With your new philosophy intact, your 90-minute account plan starts with one sheet of paper and six boxes arranged in two rows of three. That's all you need. And you'll do this for each of your key accounts.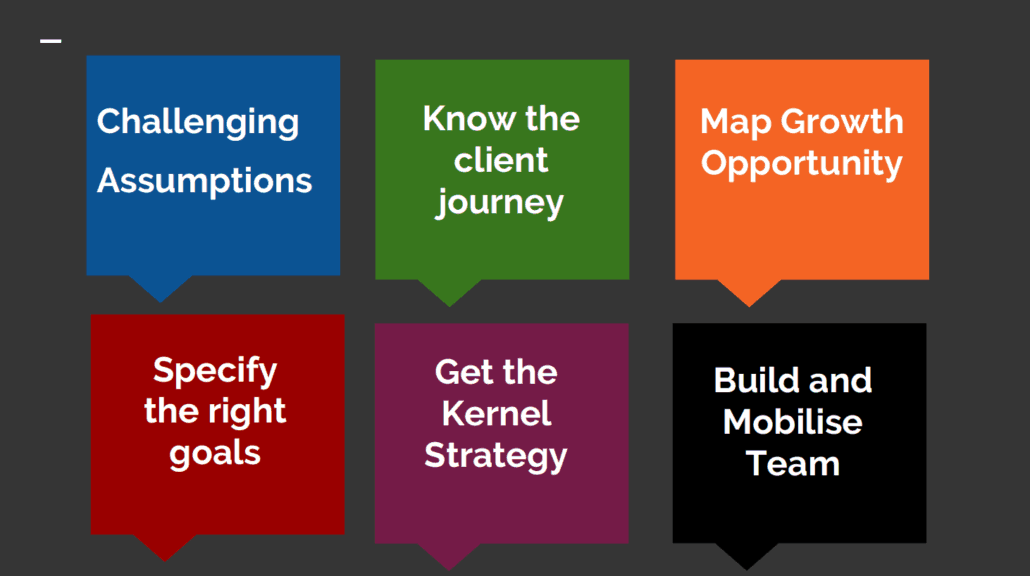 Each box represents one of six core principles:
1) Assumptions
We live in a world that's volatile, uncertain, complex, and ambiguous. As a result, we bring a lot of assumptions into our relationships and daily interactions. It's important to look at those assumptions from a place of deeper understanding and really challenge yourself on what you know and what you don't know.
In box #1, write down:
The things that do not contribute to client outcomes that you need to

stop

doing

The important actions you need to

start

doing from this point

The things that may need to

change

to make the outcome possible to achieve
2) Customer Journey
Sometimes you can get results for your customer, but the relationship doesn't get any better. It may be that you don't fully understand where they are in their journey and what they're thinking and feeling along the way. Where the customer is at any given time determines how you move them forward. They're relying on you to be a guide, to coordinate, and to anticipate.
In box #2, write down:
Where your customer is

today

: their needs, emotions, barriers, and what they need to move forward

What they need

tomorrow

What they're uncertain about needing in the

future
3) Growth
Significant growth with your customer will rarely come from the obvious; it comes from yet-to-be-discovered insight. As an account manager, you are the CVO — the Chief Value Officer — for your customer. Value-adding is what you do on a daily basis, but value-creating is what you know about your customers that they don't know about themselves.
In box #3, write down:
What insight do you have about your customer that

they don't have

What do you know about the depth and value of services you and your client

haven't fully explored

How are you using your customer insight to drive

greater value and opportunity
4) Goals
To point the right resources in the right direction for your customer, you first need to understand where your customer is going. Find out the top four goals your customer has for the year and make sure you know why they matter to the customer and what the expected results or outcomes will be for them. Then you can determine how to drive toward those outcomes.
In box #4, write down:
If and how the goals help you achieve

what you want most for your customers

If and how the goals help you

create a better customer

If and how the goals are aligned back to

your corporate strategy
5) Strategy
After you go through a goal establishment process, your strategy begins by addressing the specific challenges to the goals — the causes of the challenges, not the symptoms — and what business or tactical policies you have to address them. Understanding the challenges will help you deploy the strategy and keep it aligned to the goals.
In box #5, write down:
The

challenge(s)

that get in the way of the goals

The

core policies

you have to address those challenges (e.g., speaking with specialists or consultants)

What you need to achieve the strategy: the

minimum viable resources

(

any

person and materials needed to execute) and the

ideal viable resources

(the

exact

people and materials needed to execute)
6) Team
Collaboration helps you get work done better and faster and achieves greater results. Define what expertise means to you and who the biggest influencers and co-beneficiaries are (the people to bring on board who can also benefit from the collaboration). Who's on your team matters, and you can build strategic groups by getting to know the people around you.
In box #6, write down:
What are the people around you good at: what is their

core expertise

What are their

strongest relationships

and with whom

What do they

care about

the most
Minor Adjustments Lead to Major Shifts
After you've created your plan, you don't necessarily need to apply all areas at once. By simply picking one area to focus on, you can see specific results take place over time. If something isn't working, go back to one or two other areas and re-think, re-configure, and re-try. Minor adjustments in one area can have a big impact on the whole of the customer relationship and their outcomes.
If nothing else, remember this: specifying the right customer goals and understanding how they fit with your intention and philosophy as account manager is the most important area to focus on. As the other areas come together, make your customer goals a top priority. Your account plan becomes your filter for anything you execute daily, weekly, or monthly until your customer goal is completed.
Want to see Jermaine's entire talk from KAMCon 2018? Click for the full-length video of The 90-minute Account Plan: a Playbook for Key Account Success.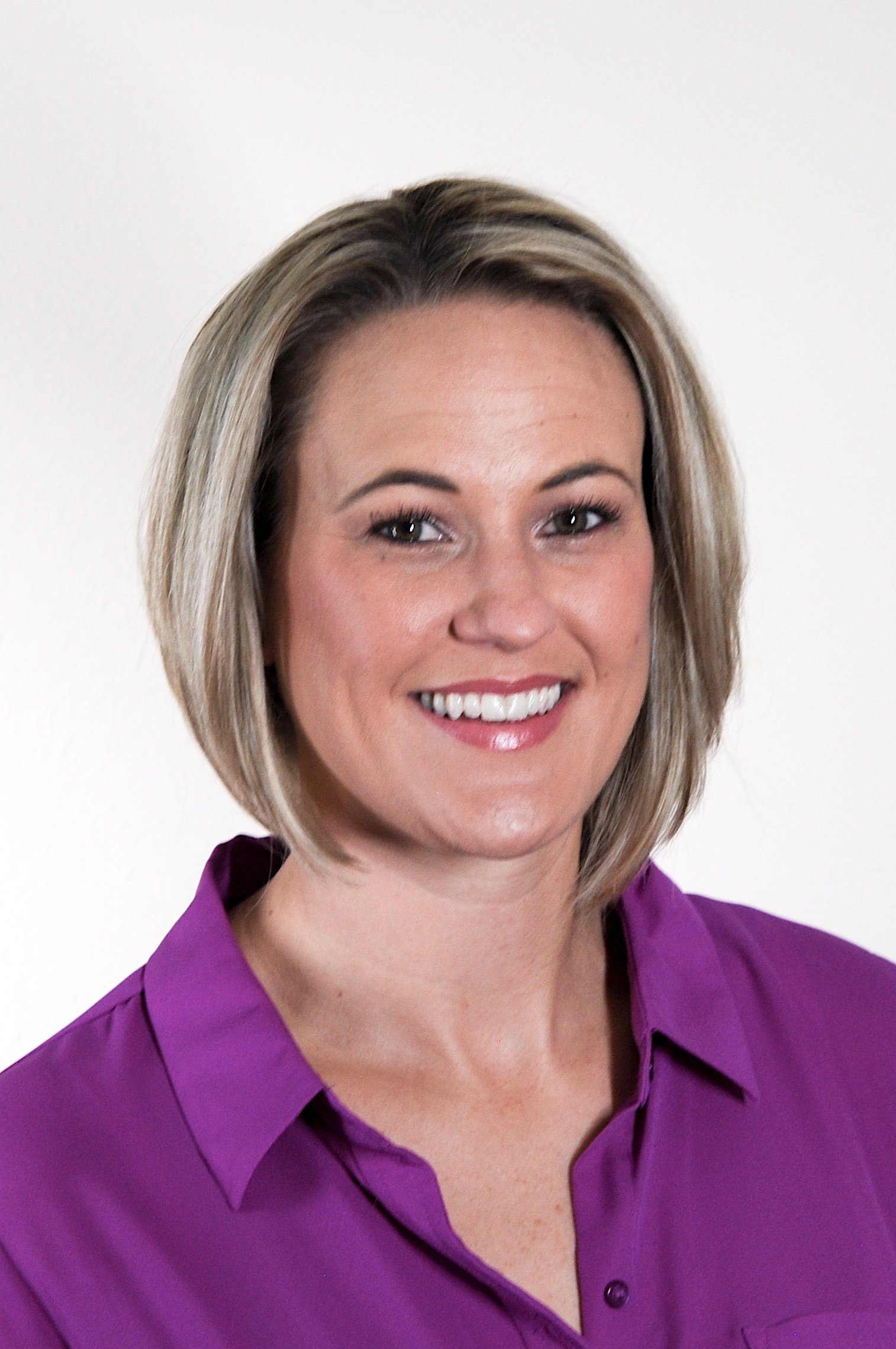 Key Account Management Specialist at
Kapta
Lesley is a Key Account Management Specialist at Kapta.